Posted on: 11-Jan-2016 23:33
Price: $10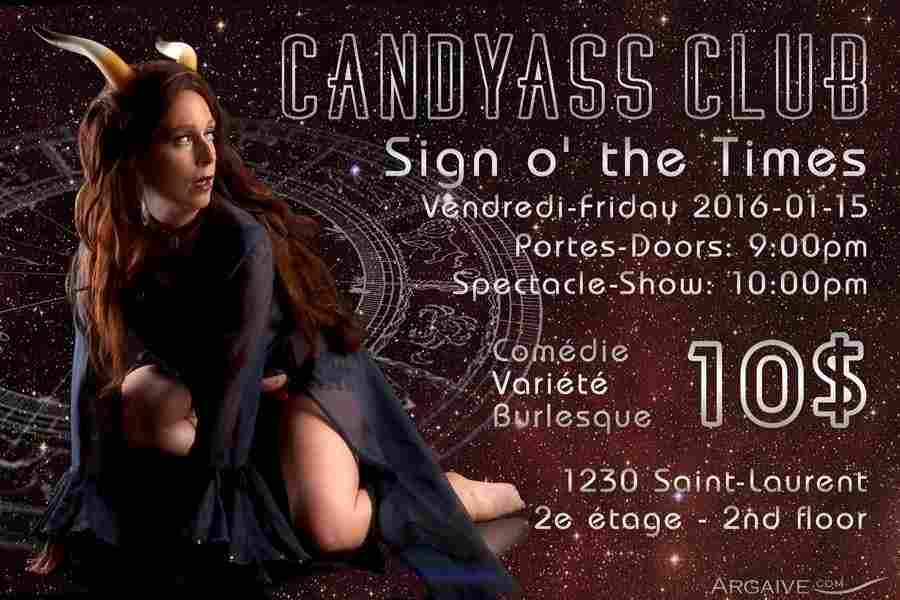 Friday Jan 15
showtime 10pm doors open 9pm
$10

1230 boul. st. laurent
2nd floor
_______________________
Starring : Roxie Hardon
Randi Rouge-Ottawa
Maximum Capacity -Toronto Drag King
Marie Sisuei
Natasha PF- Chinese opera style
Leighland Beckman -Aural Turpitude
Alex Robshaw -Queen of Goth
Pickles Lavey -Vancouver
The Magus Matt RIsk
Kathy Slamen

MC Jimmy Phule
Does the song Age of Aquarius call out to you ?
Does Mercury Retrograde make for smooth communications ? Are you amazed at all the coincidences when you read your morning horoscope in 24heures or le Metro ?
Come join us as we look at the Sign O' the Times
with the witty Candyass gang as we explore the zodiac in all its mysterious combinations


A cavalcade of delightful yet challenging entertainment
to feast your eyes and ears every 3rd Friday of the month.
Featuring a tasty eclectic blend of artists in the heart of the historic entertainment district on the Main.

Members of our audience are randomly selected to partake in our silly contests to win incredibly crappy prizes!

Comedy! Burlesque! Vaudeville!
Talent! Titties! Toupees!
Drink Specials ! Fun times !
*****************************************************
The Candyass Club Cabaret presents a monthly cabaret with a stellar cast and new acts every 3rd Friday.
Address: 1230 boul. St. laurent
http://www.montreallisting.ca/ads/montreal-sign-o-the-times-candyass-cabaret-ad-655223/