Posted on: 19-Nov-2017 11:40
Price: $4500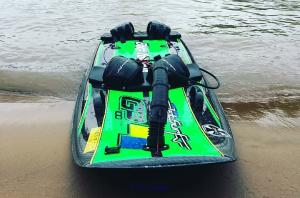 DIMENSIONS:
Length:1800mm
Width:600mm
Height:150mm
Weight:15kg
Max Load:110 kg
Fuel Capacity;2.5 L
Range Approx:2L / hour

DRIVE UNIT:
Propulsion System:Jet-Pump Direct Drive
Racing Pump with:Carbon Fiber; Axial Flow; High Performance Single Stage
Racing Impeller:Carbon Fiber

ENGINE:
Type:2 Stroke Engine specially developed by MSR Engines for Jetsurf
Displacement:100cc / 11.000 RPM
Cooling:Water Cooled Open Loop
Fuel Type:Unleaded 95 octane or higher; Full Synthetic 2 Stroke Racing Oil; Fuel / Oil Mix 30:1
Top Speed:57km/h

ELECTRICAL:
Ignition:Automatic Start / Stop
Starter:Electric
Battery:Li-FePO4. The engine does not recharge the battery; there is no accumulator which will give you approximately 150 starts or 4 hours of continuous riding without recharging. Recharging takes approximately 45min. and can be done via a car cigarette lighter output or socket.

Address: Jln.Cicabe Gg.Bpk Asan RT.007,Bandung,Jawa Barat,40194,Indonesia
http://www.montreallisting.ca/ads/montreal-jetsurf-factory-gp100-ad-689398/