Posted on: 7-Sep-2017 7:43
Price: $750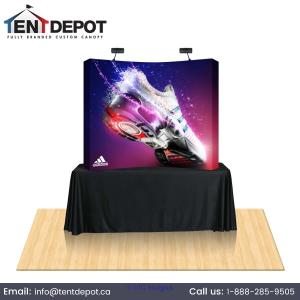 Displays are designed to make a big impact at your trade show without making a big impact on your budget. A lightweight curved pop up display showcases your brand. We guarantee on time delivery to your office or show.
Package Includes
• 8ft Curved Table Top Pop Up Booth – Full Graphics
• 12 - Magnetic Channel Bars with Bag
• 1 - Podium Hard Case Included Graphic (Optional)
• 2-Photomural Graphic End Caps
• 3 - Photomural Graphic Center Panels
• 2 Halogen or LED Lights (Optional)
• Podium Graphic (Optional)
• 1 Year Hardware Warranty
Prices starting from -CAD $750.00
Contact Us:
Tel: 1- 877-409-0265 | Toll Free: 1-866-940-7010
Visit us: https://www.tentdepot.ca
Email: sales@tentdepot.ca
Address: 30 Pennsylvania Avenue, Unit 5 Vaughan, ON L4K4A5.

Address: 30 Pennsylvania Avenue, Unit 5 Vaughan, ON L4K 4A5 www.tentdepot.ca
http://www.montreallisting.ca/ads/montreal-curved-top-pop-up-table-top-display-ad-686031/